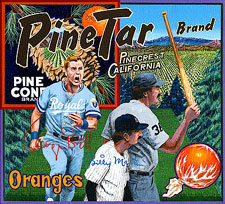 There's no day baseball today, but we do kick off a number of important series in the majors. For a more complete rundown of what's going on all across MLB, including an excellent analysis of the Royals' recent hot play and trading-deadline decisions and some news about Barry and A-Rod's special balls, check out, as always, Buster.

ATLANTA @ SAN FRANCISCO (4 GAMES)

Sure, you're being overwhelmed with Barry crap right now, but it's not every day that someone passes Hank Aaron. The Giants have rigged Barry's playing time in order to let the beast get his record in San Francisco, and now AT&T Park welcomes its genetic freak home for seven days of delirium. I think we're all hoping we can just get this over with sooner rather than later, and the first episode goes down tonight at 8 Mountain on ESPN2.

The Braves are quietly hanging around in the NL East race at 3 1/2 back, as the Mets still can't put either Atlanta or Philadelphia away. Smoltz pitches tonight, and Barry has eight jacks against him in his career, and blah blah blah...Joe Morgan can fill you in on all this shit later.

BOSTON @ CLEVELAND (4 GAMES)

Two of the better teams in the American League hunker down for a scrum at Jacobs Field, starting tonight at 5 on ESPN2. The Red Sox are embarking on their most difficult stretch of the second half, as their next six series are at Cleveland, at Tampa, home vs. Baltimore, at Seattle, at Los Anaheim, at Baltimore. They get Jon Lester's feel-good story on the mound this evening. He had cancer and blah blah blah...talk to Joe.

Boston is seven and a half up on New York following the Yanks' blistering of the D'Rays over the weekend (45 runs combined on Saturday and Sunday, yo). The Tribe sits a game back of Detroit, who despite dropping a series to Kansas City is still playing lights-out ball. So this series is pretty stinkin' big.

NY YANKEES @ KANSAS CITY (4 GAMES)

Bankmeister informed me this morning that he'll be taking in at least one of these games, which is a good thing. Otherwise I might have had to revoke his access card to the HoG's palatial corporate headquarters in suburban Overland Park. There's a lot happening here, including:

Kansas City's remarkable run (24-19 since June 1) combined with the wretched play of the White Sox has the two teams tied for fourth place. KC has a chance to finish somewhere other than last for the first time since 1896. Wait, did I say 1896? I meant 1896.

The Yankees come in smoking hot (9-3 since the break and 30-17 since June 1) and are clearly back in the postseason picture. In addition to pulling within shouting distance in the East, they're 6 1/2 back of Cleveland in the wild card standings, with only Seattle standing between them and the Indians.

KC doesn't really care who you are or what your record is, as evidenced by their play last week. They strutted into the homes of first-place Boston and first-place Detroit and took two of three from both clubs. These aren't your father's Royals, but they aren't your older brother's version either.

Best of all, tomorrow is some anniversary of George Brett's pine tar home run, and the Royals are running a t-shirt promotion with a powder-blue Old No. 5 smeared in faux pine tar. Bloody brilliant. Now don't fuck it all up, Royals--the nation is watching you in your quest to topple the hated Yankees. Finish the job.

SAN DIEGO @ COLORADO (3 GAMES)

All of their hard work this season has garnered the Colorado Rockies exactly nothing but a chance. They're in the divisional picture at 5 1/2 out of first, and they get the second-place Padres and the first-place Dodgers at Coors all week. If they can win either or both series, they're officially legitimate. Tonight's starters are soft-tossing maestros Greg Maddux and Jeff Francis. One of these guys is a future Hall of Famer and who's fond of Internet chat with underage boys, and the other one is the only professional athlete named "Francis" not to have been labeled "Franchise" at some point in his career. Until tonight. Or maybe not.