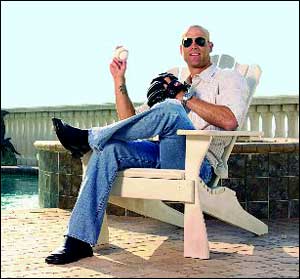 Thursday arrives once again, with its smorgasbord of matinee baseball, and I'm struck by how quickly these weeks run together in the summertime. During the fall and winter, when your favorite football team plays once a week, you can't wait for the days to pass and get back to Sunday. But these days of sunshine and bikini tops are burned up in a flash. Enjoy these games anyway.

Batting leadoff are the Braves and the Mets at 10:10 Mountain on XM 186 and DTV 734. It's the rubber match of a three-game set, and the New York lead in the NL East sits at 4 1/2 over the Braves (with the fightin' Phillies sandwiched in between). This game also gives us our best daylight pitching battle, as Tim Hudson hurls against John Maine.

At 10:35 the Dodgers attempt to staunch the bleeding of their once-promising season in Cincinnati. The boys in blue have dropped six straight to fall five back in the NL West, with the last three defeats having come via shutouts. LA hasn't scored a single run in 28 innings. Perhaps they should have acquired a bat at the deadline after all, eh? Those three shutout losses came to starting pitchers Brandon Webb, Bronson Arroyo and Aaron Harang, so there's not really any shame involved. Crossing the plate should be a little easier today, as Phil Dumatrait is charged with stopping the Dodgers. His counterpart will be Brett Tomko, on XM 189 and DTV 735.

At 11, the Devil Rays visit the Tigers on XM 180 and DTV 736. Detroit has taken two of three already from the Rays following a season-long six-game skid. They could close their half-game deficit in the AL Cenral, at least temporarily, with a win. That burden falls to Jeremy Bonderman, who takes on fellow young laser rocket arm Scott Kazmir.

From the shoulder of I-70 comes a game between the Twins and the Royals at 12:10. Even if you wanted to watch this game outside the metropolitan areas of KC and the Twin Cities, DirecTV is having none of it. Which is a good thing, because games broadcast from the Kauff generally look as though the camera lens was smeared with Vaseline. Feel free to upgrade at any time, Mr. Glass. At least you can listen to newly minted Hall of Famer Denny Matthews describe the duel between Matt Garza and deadline acquisition Kyle Davies on XM 181, should you so desire.

Finally, the Nats and Giants wrap up their ballyhooed series next to McCovey Cove at 1:35. I'm fairly certain that Barry will take a pass on this one, what with the whole day-game-after-a-night-game arrangement. So "Joel Hanrahan" and "758" will most likely never appear in the same sentence, except the one you just read. Some kid named Patrick Misch gets the nod for San Francisco, on XM 184 and DTV 737. Cheers!